Why La Savina?
Motorbike hire in the port of Formentera
Take advantage of our motorbike hire rates
Hiring a motorbike is the most intelligent option for discovering Formentera, one of the treasures of the Balearic Islands. Choosing a motorbike adds savings, comfort and freedom to this good decision. It is simple: you do not depend on the timetables of public transport, do not consume (and therefore do not pay for) as much fuel as with other vehicles, and you can travel where you wish in a few minutes. Furthermore, for the more spiritual, travelling by motorbike you will enjoy the landscape, forming a part of it, being carried away by the breeze and its scents.
The good choices that one makes when organising their trip determine the success of holidays. This does not only involve choosing a destination which you will love or accommodation which will offer you the relaxation which you so crave; during your stay in Formentera you have to plan many other things, such as, for example, how to spend your free time or how to move from one place or another. Take into account that transport in Formentera is very important, as it is a very small island which can only be accessed by boat.
La Savina Rent a Car, your motorbike hire company in Formentera
At La Savina Rent a Car we offer you an extensive fleet of vehicles for hire so that you can choose the one which best suits your expectations, budget and preferences. We are all different and all like to travel differently, and therefore we offer you various models of vehicles (utility vehicles, family vehicles, vans, automatic cars, convertibles, all-terrain vehicles, etc.), motorbikes, bicycles and quadbikes. Within motorbike hire you will find the Aprilia, Sym and Piaggio brands. We have motorbikes of different capacities and transmission types (manual and automatic).
Our vehicles are subjected to the most rigorous safety and quality checks. Prices are made up of the rate for the vehicle in question, unlimited mileage, insurance with excess, with VAT (21%) included and helmet (if you choose a motorbike, bicycle or quadbike). You will be able to check rates, offers and ask any other question which you have to the qualified multilingual personnel of our various offices and points of collection and return for vehicles, spread over Ibiza and Formentera.
Collect and return your hired motorbike at the port of Formentera
The exclusive location of Formentera, only accessible by boat from Ibiza, and some months of the year from Denia, limits the arrival and departure of passengers and goods in the La Savina port, the only access point of the island. This will be the first and last place that you will pass through in Formentera.
One of the offices of La Savina Rent a Car is found at this point, in the port, in order to facilitate the collection and return of your hired vehicle, so that you can use it from your arrival until just before you leave.
Have you decided when you will visit us? Hire your motorbike now! We are waiting for you at La Savina, in the port of Formentera.
Links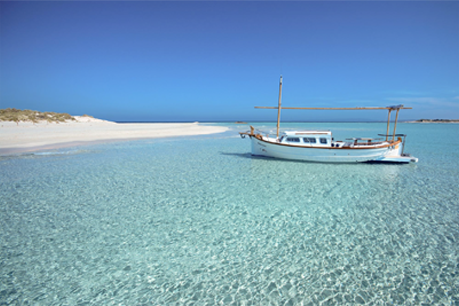 Tourism Formentera
Active tourism Formentera is not only last Mediterranean paradise where you can enjoy peace and relax
Visit Formentera
Active tourism Formentera is not only last Mediterranean paradise where you can enjoy peace and relax