La Savina Rent a Car
Number One in Formentera

La Savina Rent a Car
Rent at the BEST PRICE
Fechas no validas para la oficina seleccionada
Why La Savina?

wide range of cars, motorbikes and quads

you pay only the fuel that you spend
final price with no surprises
7 offices throughout the island

returns the vehicle where prefer
Quadbike hire in Formentera
Benefit from the best hire prices on the island
Travelling to Formentera is an experience which is recommended at least once in life, and if you travel the island on a quadbike it is even better. Many people choose to hire a car, others prefer motorbikes and some choose bicycles; what many people don't know is that a quadbike is also a very attractive and fun option for discovering every corner of the island. Quadbikes can circulate on the same roads and with the same rights as a vehicle or a car except in playa de Illetes, offering more stability than some motorbikes and traction and endurance reminiscent of all-terrain vehicles.
Quads can only be parked in deterrent parking spaces
For those who love nature and contact with the environment, it offers the possibility of fully enjoying the natural spirit of Formentera when travelling from one place to another, which is not provided inside the chassis of a car. If you would prefer another form of transport for your holiday, you can always hire a quadbike for a few hours or even a day, and not miss out on discovering every last corner of Formentera, reaching (almost) every place on its four wheels.
La Savina Rent a Car, your trustworthy quadbike hire company
La Savina Rent a Car is a company specialised in vehicle hire, an activity in which we have placed all of our passion and effort for over two decades. We offer a large fleet of vehicles, motorbikes, bicycles and quadbikes. All of these are subjected to strict controls to guarantee the quality of their performance and the safety of their users. The price that you will find for each model of vehicle includes the rate, insurance with excess, unlimited mileage, VAT (21%), and helmet (in the case of hiring a motorbike, bicycle or quadbike).
At La Savina Rent a Car we have several offices spread throughout Ibiza and Formentera. There, in addition to collecting and returning your vehicle, you will also be able to find out about our rates, see the models of vehicles without any commitment, and have any question that may arise answered. You will receive friendly, personalised service from our multilingual personnel.
Formentera, a magical environment to discover
Organising your holiday on the best preserved of the Balearic Islands is something that you should not leave to chance. You should take the same care as in choosing accommodation in thinking about how your will travel around Formentera, as hiring a vehicle is the most recommended option in a place which can only be accessed by boat from Ibiza or Denia (only in some months of the year).
Your holiday in Formentera begins in the La Savina port, the place from which the boats arrive and leave, transporting the million tourists who visit this jewel of the Mediterranean each year. In addition to seeing the fishing industry, yacht clubs, hotels, businesses and restaurants, in the La Savina port you will also see one of our offices, where we will be pleased to greet you to hand over the quadbike with which you will begin your adventure in Formentera, with beaches, coves, viewpoints and natural parks, etc.
Hire your quadbike now and discover Formentera at your own pace, on four wheels!
Links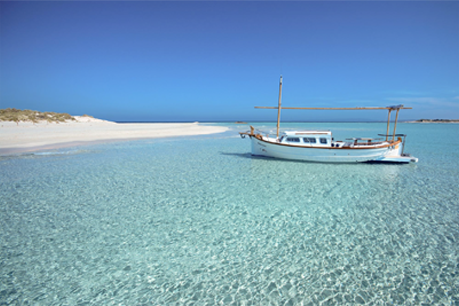 Tourism Formentera
Active tourism Formentera is not only last Mediterranean paradise where you can enjoy peace and relax
Visit Formentera
Active tourism Formentera is not only last Mediterranean paradise where you can enjoy peace and relax